Jean-Gabriel Carasso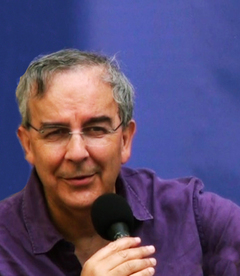 After studying psychology, Jean-Gabriel Carasso trained at the Jacques Lecoq International Theatre School and at the Institute of Political Studies in Grenoble.

From 1966 to 1973, as an actor at the Théâtre de la Clairière under the direction of Miguel Demuynck, he participated in the emergence of theater for young spectators in France. He led numerous drama and theater workshops within the CEMEA (Centres d'Entraînement aux Méthodes d'Éducation Active). From 1973 to 1978, he directed the animation team of the Paul Eluard Theater in Choisy-le-Roi, and founded and directed the Théâtre du Bonhomme rouge, a theater company for young audiences. From 1978 to 1985, he accompanied Augusto Boal as assistant director of the Centre du Théâtre de l'Opprimé. From 1988 to 1999, he was director of ANRAT (National Association of Theatre and Education). He is the author and co-director of several films about theater.

Today he directs L'Oizeau rare, a research association on cultural policies, and collaborates with the National Observatory of Cultural Policies in Grenoble.

He has taught at the Universities of Paris III (Institute of Theatrical Studies), Paris X (Center for Theatrical Studies), the Conservatoire national des arts et métiers, the Université du Québec à Montréal and the Conservatoire national supérieur d'art dramatique.

At La Manufacture, Jean-Gabriel Carasso is a lecturer in the CAS in Theatrical Animation and Mediation.