Cecilia Colacrai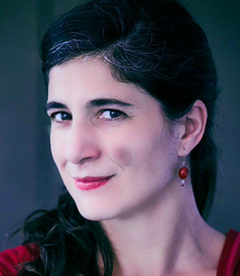 Dancer, independent maker and teacher of contemporary dance, improvisation and composition, living in Barcelona since 2002.

Since 2012, Cecilia Colacrai has been independently working with artists Anna Rubirola and Mireia de Querol within the Big Bouncers Collective. They received the "Applause to the emergent creation" prize at the Sebastià Gasch Awards, FAD 2015. In 2018 their piece OVNI was nominated as the best dance performance at the Awards of the critics of performing arts (Catalunya) in 2018. In 2019, the Mercat de les Flors theatre (Barcelona) invited the Big Bouncers to present several of their own pieces and pieces by artists connected to the collective.

Cecilia Colacrai is also a member of Group La Bolsa (Iris Heitzinger, Natalia Jimenez, Mireia de Querol, Xavier Moreno, Anna Rubirola and Federica Porello) with which they premiered the "Measure of Disorder" performance directed by Thomas Hauert at the Grec Festival 2015. At the moment, they are creating their new piece, "Wondering portraits".

As an independent maker she collaborated with artists such as Joao Lima and Anna Rubirola in the "Morder la lengua" performance and with Jorge Albuerne in dance-circus pieces "Gira" and "Último, el baile". She created two solo performances: "Sola?" (2005) and "La incorruptible belleza de la distancia" (2011) that were presented at several festivals in Spain, France, Italy, Mexico, Cuba and Argentina.

Cecilia collaborated with different choreographers for diverse projects, such as: Alexis Eupierre, Montse Colomé, Toni Mira and Cia. Nats Nus, Cia. Emmanuel Grivet, Sebastián García Ferro, Cia. Tumàka't, Grup República Cênica, Cia. Gabriela Solini, space Tragant-Dansa, space for creation La Caldera, among others.

She has been teaching contemporary dance classes, improvisation and composition since 1997 in Argentina and since 2002 in Barcelona and other cities of Europe and Latin America. She is currently a member of the teaching staff of the Institut del Teatre in Barcelona.