Arthur Brügger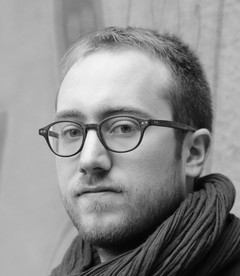 Arthur Brügger, born in Geneva in 1991, lives and works in Lausanne.

A graduate of the Swiss Literary Institute, he has also been a member, since its creation, of the AJAR collective, with which he writes and performs in Switzerland and abroad. He is a mentor in the Literary Mentoring Online program and leads writing workshops in various structures.

He publishes texts in journals, collections and anthologies, including a short story, Trompe-l'oeil, which won the Young Writer's Prize 2012. His first story, Ciao Letizia, was published by Encre fraîche in 2012. His novel L'Œil de l'espadon, published in September 2015 by Zoé, was awarded the Bibliomedia 2016 prize.