Simone Aughterlony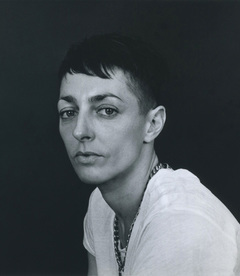 Simone Aughterlony is an independent artist based in Zurich and Berlin, working predominantly in dance and performance contexts. She has been devising queer-spirited choreographic works over the last sixteen years.

In recent years the works Biofiction, Uni * Form (co-authored with filmmaker Jorge León) and the collaborative project Everything Fits In The Room with artist Jen Rosenblit, a commission from HAU Hebbel am Ufer and Haus der Kulturen der Welt, have toured extensively. In 2018 these works could be seen in Venice Biennale Teatro for an invited artist focus.

She is currently working on the performance, Remaining Strangers which concludes her research into conceptions of the stranger of which Compass and Maintaining Stranger are an integral part.

Engaging with alternative forms of kinship, inside her process new constellations emerge as possibilities for reconfiguring a culture of togetherness that foster both familiar and unknown qualities.

Her works playfully compose with representation and its saturation, seeping into and embracing the phenomenology of mis-recognition and the absurd.

In 2021, she creates the piece "Agenda" for the double graduation program of the Bachelor in Contemporary Dance class E.