Magali Heu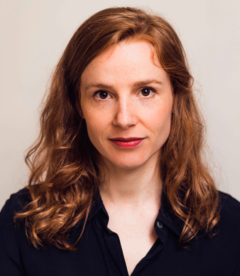 After a degree in literature and arts and training at the Studio Muller in Paris, Magali Heu joined La Manufacture in Lausanne in 2012.
During her training, she worked with Gildas Milin, Robert Cantarella, Jean-François Sivadier, Philippe Saire, the Motus company, and Denis Maillefer, who directed "Lac", a text written by Pascal Rambert for her class' graduation show.

Upon graduation, she met again with Denis Maillefer with whom she created in 2016 the monologue "Marla, portrait d'une femme joyeuse". Since then, she has collaborated with Darius Peyamiras ("Faust"), Joan Mompart and the Llum Teatre ("Génome Odyssée" and "Extase au musée" for the Musée d'Ethnographie de Genève, "Songe d'une nuit d'été", "Je préférerais mieux pas"), Mathias Brossard and the CCC collective ("Platonov", "Les Rigoles") and the X Samizdat company led by Jonas Lambelet and Lara Khattabi ("On est tous des tontons et des tatas de la classe ouvrière", "Adieu Sémione Sémionovitch! "). She is also assistant director to Magali Tosato on "Qui a peur d'Hamlet?"

Magali also shoots in film and television with Jacob Berger, François Ferracci, Antonin Schopfer & Thomas Szczepanski, Lora Mure-Ravaud, Guillaume Nicloux, Lucas Del Fresno, and Elisabeth Lecaye, among others.