Arnaud Huguenin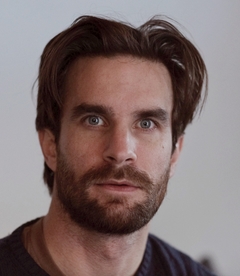 Swiss actor, Arnaud Huguenin obtained his bachelor's degree in acting at La Manufacture after a maturity in visual arts in Valais. In 2013, he followed an intensive dance training and joined Ambra Senatore's company with the show "Nos amours bêtes" written by Fabrice Melquiot.

Driven by the notions of pleasure, honesty and perpetual research, his relationship to the stage is changed thanks to his encounter with Oscar Gómez Mata and his work on the presence of the actor, as well as with Jean-Michel Rabeux, the TgSTAN or Marie-José Malis, whose imprint remains alive.

In 2015, he joined the CCC collective and participated in the creation of original and unusual large-scale projects outside the walls of theaters. In 2017, he works with the company of Nicolaz Zlatoff and discovers the studies of Anatoli Vassiliev.

Recently, one could see him in Les Rigoles, by the CCC collective, a theatrical adaptation of the eponymous comic book by Brecht Evens, in Summer Break and Apres Hamlet by Natacha Koutchoumov or in CUISINE by TgSTAN.

Since 2019, he also creates his own plays with the collectiveCLAR.