Simon Ramseier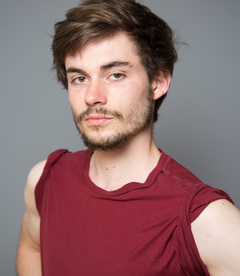 Simon is born near Nyon next to the Lake Geneva, he starts dancing at the age of 7 with Hip-Hop dances.
With the years he discovers the Hip-Hop culture through different improvisation styles as Popping, House and New-style Hip-Hop. With a group of dancers, he travels to New-York, Marseille, Paris, and Amsterdam where he participates in Battles and meets many dancers practicing freestyle. He is still active in this field that he mixes with new influences and he is now teaching this experience at the University of Lausanne since 2017. He is also teaching Hip-hop for Children's between 3 and 12 years old.

In 2013, he discovers Contemporary dance. And creates in 2014 a first piece called "Eldorado" around the topic of immigration. Then in 2015, he enters in "La Manufacture" in Lausanne for the Contemporary Dance Bachelor. There he meets Camilla Stanga and they create and perform together a duet called "Patiperros" for their Bachelor Project. "Patiperros" is born around their friendship and their common interest in walking and being outside in the nature.
In 2018, Simon participates in two outdoor performances for the festival Antigel in Geneva.
"Balade au fil de l'Aire" with a solo and "Duel au fort l'écluse" in a medieval castle with a duet for the festival "Antigel" in Geneva. Which develops his interst for performing outside of theatres, for example in public spaces, private flats, natural landscapes…
After the Bachelor, he creates a solo based on improvised dance and musicality, for the opening of the Tic Tac art center of David Zambrano in Bruxelles.
In 2019, he is gonna take part in a research project with Rémy Héritier.

Simon wants to mix physical techniques and build new dance improvisation styles. He is also searching how to make pieces containing dance, his interest in gardening and ecology and live music.