Nicolas Zlatoff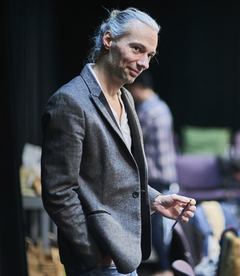 With a scientific background (engineer from the Ecole Centrale and Doctor of Science from the INSA), he has directed various theatre projects since 2006 (NTH8, Théâtre de l'Elysée), while working as an assistant to Gilles Chabrier and Catherine Hargreaves. Between 2011 and 2014, he proposed a series of installations in telephone booths, which put spectators in contact with voice mail servers (Résonnance at the Biennale d'Art Contemporain de Lyon).

He then joined the Master mise en scène at La Manufacture – Haute École de Théâtre de Suisse Romande, in 2013, where he developed a two-year research project on the representation of the act of thinking. He worked with Claire de Ribeaupierre, Robert Cantarella, Jean-Yves Ruf, Julie Sermond, François Gremaud, René Zahnd, Nicolas Doutey, Sylvie Kleiber and Roberto Serafide.
He has led several research projects, supported by IRMAS and HES-SO, as co-applicant (ATLAS, 2016-2017 then PENSEE, 2017) then as principal applicant (INTERPRETATION, 2019). In 2020-2021, he conducted research at the crossroads of the performing arts and computer science, supported by the SNSF's SPARK scheme.

His work articulates autofictional elements with texts, theatrical or not, devices, videos, images, music, movements... to create various formats, from installation to theatre, from conference to performance and concert, which question the place of the spectator in each of these modes of representation. His creations have been presented at La Comédie de Genève, l'Arsenic (Lausanne), le Théâtre Saint-Gervais (Geneva), Antigel Festival (Geneva), le TLH-Sierre, as well as in France, mainly in Paris (Maison des Métallos, Théâtre de l'Aquarium, La Loge), Lyon (Les Subsistances, Nouveau Théâtre du 8è, Elysée) and in Latin America (Mexico, Colombia).

Since 2020, he has been teaching students in La Manufacture's Bachelor Théâtre program acting techniques derived from his research. In 2021, he tutored Juliet Darremont's Master's thesis in stage direction.