Louise Bentkowski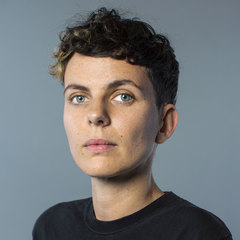 "Since 70% of our job is to talk about what we do rather than do it, we might as well try to find a way to talk about it with joy. »

I'm sorry, I didn't hear that? Oh, yeah, my name? Louise Michelle Bentkowski. Would you like me to tell you about my life? Just like that? But it's going to take a long time, so maybe we should sit down? No ? Just a rundown? A short presentation? Er... my favourite colour's blue, and you? You don't say anything? Okay, it's just me talking, you would rather not. Uhh... What do I do in life? Well right now woolen tassels but most of the time I tell myself stories in my head, I had all my best ideas in the shower, I have a special relationship with water, I even learned yesterday that my moon sign was fish, but I don't swim well and I can't even dive, I can't juggle either and it makes me sad because I've been trying for a long time, otherwise my favorite poem is Je voudrais pas crever from Boris Vian, you know it? That's not the point...

So, I was born in a city named after a smelly flower. I am? I am? Honeysuckle? But that's not a city! Well, it sucks if I play alone... You want to know what inspires me? Well... life, like everyone else, but life's big, in fact the wall in front of you, well... it's life; like your eyelid that just blinked... it's life, "Art is what makes life more interesting than art", yes uncle Filliou was right, "Art is neither a reflection nor a transposition of reality; it's an answer to reality", grandpa Tadeuz was not wrong, "You have to pump to live and therefore live to pump", the Shadoks had already understood everything.

Something more professional? Well I dared not ... yes it bothers me the name-dropping, talking about my first exhibition at MOMA at 19 years old alongside Louise Bourgeois? Who cares? Honestly? No more than my collaborations with Agnès Varda, Yolande Moreau, La Ribot, my discussions with Ursula Le Guin and Marguerite Duras or even my writing workshops with Donna Haraway and Vinciane Despret, I'm not going to talk about my Ph.D. (thesis) at Berkeley about the theatrical legacy of woman-bizon transvestism from the Chauvet cave to the present day. So did you get the name of the town? Well, yeah, lilacs smell really good, I thought so.